Corrugated aluminum sheet
Corrugated aluminum sheet is very light and resistant, and is increasingly being demanded for use in facilities and buildings. It's resistant to corrosion, even in industrial highly-corrosive environments, and to fumes and vapors of organic compounds and to chemicals. This corrosion resistance allows it to maintain itself in good shape during all its life. It can be produced in different finishes and textures that protect it and improve its appearance. Its installation is as easy as its cleaning and maintenance.
Applications: It is widely used in factory roofs, warehouses, parking lots, exposition centers, etc.
Products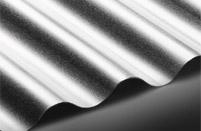 Wavy
Profile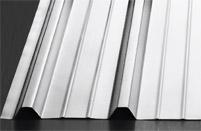 Trapezoidal





Characteristics of Corrugated Aluminum Sheet
Units
Thickness
Width (Diam.)
Length
Alloys
min
max
min
max
min
max
Inches
0.016
0.059
32
36
20
394
1XXX,3XXX
mm
0.4
1.5
809
910
500
10,000